Elite Swim
Private swim training with UCLA Recreation full-time Swim Coaches. Elite swim lessons are available for adults and youth and can be held at SAC Pool, North Pool, and Sunset Canyon Recreation Center (Location of training will be determined based on client goals and facility availability).
Get Started with an Elite Swim Coach
Step 1: Complete a Private Lesson Application 
In the application, you must complete: 
Participant Information, Pre-participation Screening, Physician's Release (Download this form if needed based on answers to Pre-participation Screening) 
Step 2: Wait for confirmation 
A swim coordinator will contact you via email within 3-5 business days to connect you with a swim coach and schedule private lessons. Participants must be assigned a coach and confirm availability prior to purchasing.  
Step 3: Purchase Swim Lesson(s)  
Personalized Servicing Pricing
| | UCLA Student Rate | Member Rate | Non-Member Rate |
| --- | --- | --- | --- |
| 25-Minute Session YOUTH ONLY | $50/session | $60/session | $70/session |
| 55-Minute Session ADULT ONLY | $75/session | $85/session | $100/session |
Terms & Conditions 
All sessions expire 365 days after the date of purchase. Unused sessions that have not expired are eligible for a refund minus a $25 processing fee.  
If you do not appear for a scheduled appointment or fail to give 24-hours notice, you will be charged for the full session. You must receive a confirmation email from the instructor.  
All required forms and participation waivers must be completed, current and submitted online prior to each session.  
All forms and participation waivers expire 12 months from completion date or as medical history changes.  
Participants must follow all Recreation Community Expectations (HYPERLINK TO https://recreation.ucla.edu/file/da907a30-3dc5-4d12-b026-c96a22f77931)  
All participants must bring their own gear and wear appropriate swim attire to each session. 
Please discuss with your coach if equipment is required for your lesson. 
Only UCLA Recreation Personal Fitness Trainers and Instructors may conduct training sessions and private lessons in any UCLA Recreation facility.   Any participant who is conducting or is suspected of conducting private lessons with a patron in a UCLA Recreation facility and who is not a UCLA Recreation staff will have membership privileges reviewed and/or revoked. 
25-Minute Sessions are for youth only.  
Elite Swim Coaches
Erika Stebbins
Erika Stebbins is a former American competition swimmer and Pan Pacific Championships champion who represented the Unites States at the 1988 Summer Olympics in Seoul, Korea and the 1992 Olympics in Barcelona, Spain. She competed in the 400 IM in 1988 and in the 400IM, 400 Free and 800 Free in 1992. Stebbins earned 2 NCAA individual titles , 5 USA National titles and was a USA National Team member for more than a decade. She was recently inducted into the University of Texas Hall of Honor.

Erika also worked as a graduate assistant coach at the University of Florida and as an assistant coach at USC, Maryland and UCLA. Stebbins has coached the UCLA Bruin Masters Swim Club since 2010 and was named the 2017 Coach of the Year by Southern California Masters Swimming.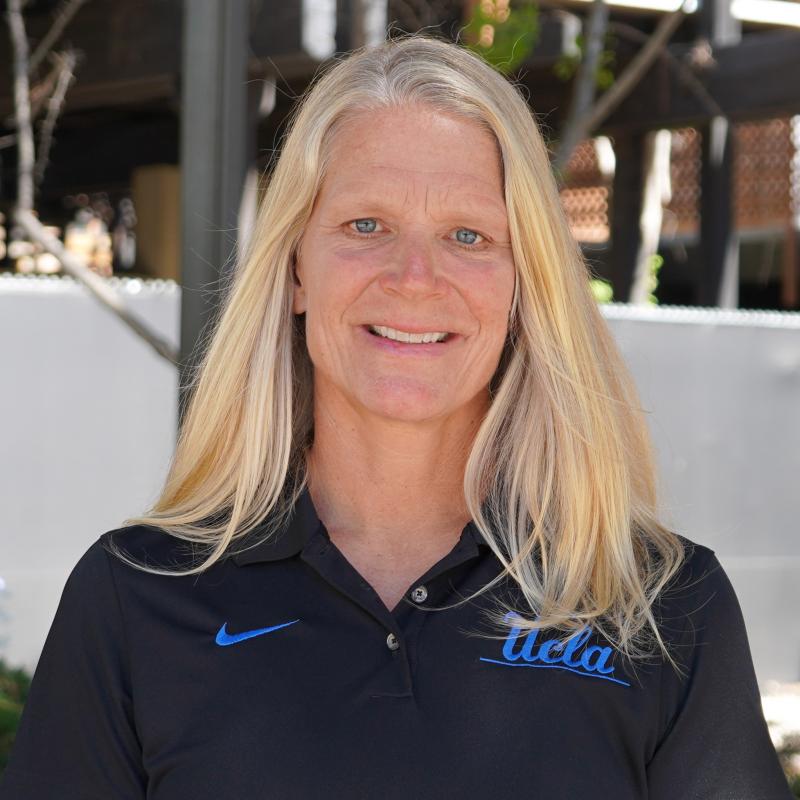 Ivan Podvalov
Ivan began his swimming career in junior and national team of Kazakhstan (former U.S.S.R.), culminating in his participation in both national and international competitions, including the Central Asian Games, the Asian Games and the Olympics.

Ivan worked as a swim coach at various clubs before becoming a coach at a public school in North Torrance, California. He later became swim coach at private Milken Community High School in Los Angeles where he coached for six years before accepting an assistant coaching position for Masters and Bruin Swim Club.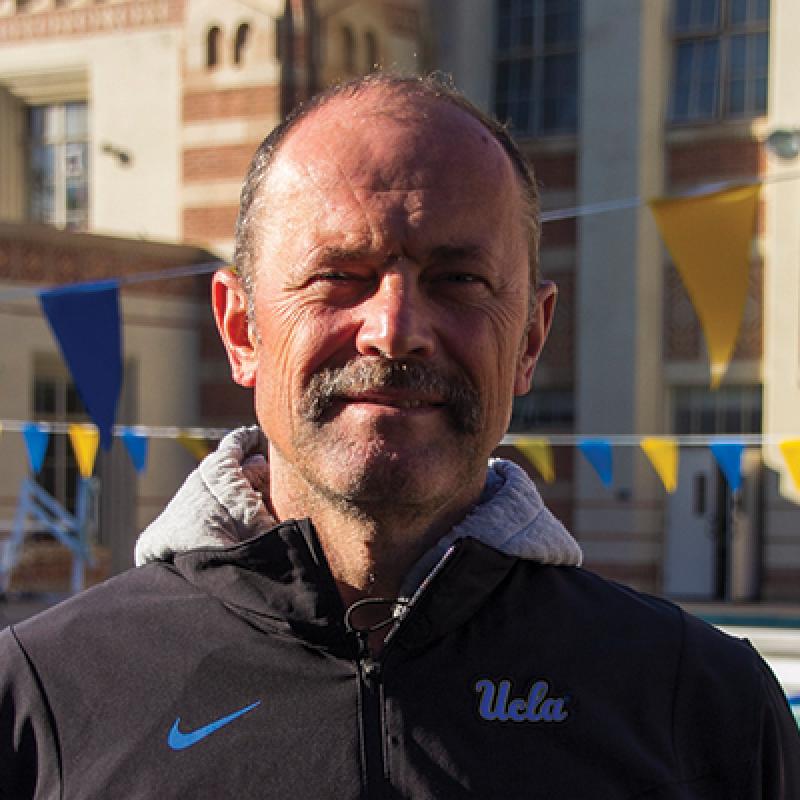 Julia Voitovitsch
From 1993-2000, Julia competed as a member of the German national swim team, participating in many national and international events including the 1996 Atlanta Olympics where she swam the 100 meter butterfly. Julia swam the butterfly leg for the German world record in the 200 meter medley relay in 1996. She also held the German national record in the 100 meter butterfly.

Julia was a member of the UCLA Women's Swim Team on full athletic scholarship from 1998 to 2001. During that time she won numerous races and set several team records.