The Sunset Canyon Park Pool is an outdoor 50-meter pool with a diving well. There are eight lap lanes available. Please refer to the signs at the end of each lane to make sure you enter the correct lane based upon your speed and swim equipment. Circle swim is required. Patrons may only use the pool during recreational swimming hours. The diving boards are available for diving classes and athletic teams only. For more information, please call 310-825-3671.
**Children must have passed their 14th birthday in order to be allowed in the water, on deck, or on the grass area.**
Updated Policies and Procedures
COVID-19 Safety
Masks must be worn at all times, except when in the water.
Patrons may not enter before their booking start time and must exit by the booking end time. Booking reservation times include any time for set up or personal needs.
Only lap swim bookings are available at this time. There is no other aquatic programming available.
2 persons per lane.
Personal equipment is allowed (i.e. kickboards, hand paddles, buoys, belts, snorkels) but cannot be shared with others. No balls or pool toys are allowed.
Check out equipment is not available at this time.
No balls or pool toys are allowed.
Locker services are currently unavailable. Please keep valuables at home.

A chair will be available to indicate lane numbers and to store any personal belongings.

Locker rooms are accessible for restroom access only.

No changing or shower facilities available; come ready to swim.

No towel service available.
Must exit the facility once you have completed your swim. No loitering on the pool deck.
All lap swim bookings will allow 2 swimmers per lane. In order to safely accommodate more swimmers, we will be observing "lane splitting." Each swimmer chooses a side of the lane in which to swim and stays on that side of the black diving line the whole time. Looking from a bird's eye view of the pool, Swimmer 1 would stay on the left side and Swimmer 2 would stay on the right side as seen in the image below.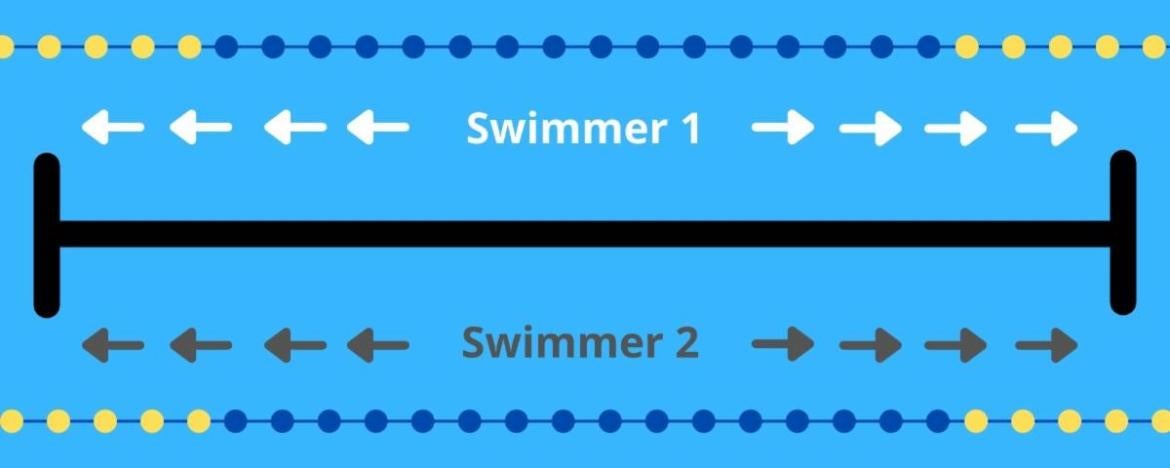 ​​​​​
Facility Policies
Swimming is permitted only when an authorized SCRC Lifeguard is on duty.

Users of the Park Pool and surrounding areas must be at least 14 years old (past 14th birthday).
SCRC is a non-smoking environment. All smoking is prohibited.

Food and drink are allowed only in the grass and picnic areas.

Alcoholic beverages are prohibited.

Glass objects are not permitted in the pool, on the deck areas, or in the locker rooms.

Swimming is prohibited in all diving wells when divers are present.
Participant Policies
Swimmers should soap shower before entering the pool.

Persons with bandages or open sores will not be permitted in the pools.

Swimmers should be dressed in clothing specifically designed for swimming (for example, no cut off shorts, t-shirts, etc.)
Instruction by the lifeguards and supervisors must be obeyed at all times.

Ball games and other hazardous activities are prohibited in the pools and on the decks and grass areas near the pools.
Running, dunking, pushing, piggyback rides, and stunts off the side are considered hazardous activities, as well as others deemed so by the lifeguard on duty.
Floatation devices, toys, balls, and other foreign objects are prohibited in the pools. For lap swimming, use of kickboards, hand paddles, pull buoys, masks, fins, snorkels, and swim belts are permissible.
These articles must be used for their designed purpose and in assigned lanes only. Please see the lifeguard for assistance.
Circle pattern swimming is required in designated lanes.

Stay off the safety lines and lane lines.

No prolonged breath holding or prolonged underwater swimming.

Diving from the side of the Park Pool is permitted only from the south-east deep end. Starting blocks and diving boards are for competitive team use during scheduled practices and competition only.
Make a Booking
SCRC Amphitheater Lawn, Tennis Courts, and Family Pool, as well as Drake Stadium are now available for booking reservations for registered UCLA affiliates. Learn more at the Return to Rec webpage.
Facility Rental
Facility rentals are currently unavailable. Please check back here for the latest. http://reserve.recreation.ucla.edu.
Hours
Fall Finals Hours:
12/3-12/10: 10:00 AM - 8:00 PM
12/11-12/12: 10:00 AM - 6:00 PM
Winter Break Hours:
12/13-12/14: 10:00 AM - 6:00 PM
12/15-12/17: 10:00 AM - 4:30 PM
12/18-1/2: CLOSED
Please check back here weekly for updated lap swim hours.
Due to maintenance, Family Pool is currently closed until further notice.
Location
Sunset Canyon Recreation Center