About the Bike Shop
Welcome to the UCLA Bicycle Shop, where expertise meets convenience! Located right on the vibrant UCLA campus, our shop is staffed by a team of skilled professional bicycle mechanics alongside enthusiastic UCLA student staff members.
At the UCLA Bicycle Shop, we understand the importance of keeping your bike in top-notch condition for a smooth and enjoyable riding experience. Our knowledgeable mechanics are equipped with years of experience and a deep passion for bicycles, ensuring that every repair or service is carried out with meticulous attention to detail.
What We Do
Whether you're a student, faculty member, or local resident, we invite you to bring your bicycle to our shop for all your repair and maintenance needs. From minor adjustments to comprehensive overhauls, we offer a wide range of full-service repairs tailored to suit your bike's specific requirements. No matter the make, model, or style, our team has the expertise to handle any bicycle type, from road bikes and mountain bikes to hybrids and more.
We believe in the value of transparency and exceptional customer service. That's why we encourage you to stop by our shop for a free, no-obligation quote. Our friendly staff will assess your bike's condition and provide you with an accurate estimate for any repairs or services needed. We take pride in our fair pricing and strive to deliver quality workmanship without breaking your budget.
Beyond repairs, the UCLA Bicycle Shop also offers a carefully curated selection of accessories and parts to enhance your cycling experience. From helmets and lights to locks and bells, we stock a variety of high-quality products to ensure your safety and comfort on the road.
Join our growing community of bike enthusiasts and experience the convenience of having a reliable, professional bicycle shop right on campus. Whether you're a seasoned rider or just getting started, the UCLA Bicycle Shop is here to help you maintain your bike's performance and keep you pedaling with confidence.
Visit us today and discover why we're the go-to destination for all your bicycle repair and service needs at UCLA. Let us be your trusted partner in keeping your wheels spinning smoothly!
Resources
Do-it-yourself Workshop
Shop Safety Rules – Online Waiver during appointment
The UCLA Bike Shop also has Do-It-Yourself Workshop availability established as a partnership between UCLA Recreation and UCLA Transportation to encourage transportation by bicycle. We provide tools, a workspace, and resources for UCLA students and staff to make their own repairs. Our onsite mechanics are available to teach you, guide you, and offer you advice on repair strategy and technique. However, please note that your repairs are your own and that you bear sole responsibility for them. Parts not included in the hourly workshop price. We have a fully stocked shop and occasionally have used parts when they are available.
Book an Appointment:
To use the UCLA Bike Shop, please book an appointment on the UCLA Recreation Online Store. There is a limit of 2 appointments per day and daily limit of one-hour per user for the Do-It-Yourself Workshop.
Location:
The shop is located in the northwest corner of the John-Wooden Center, as shown on the below map. Patrons may bring their bike into the shop through the garage door in the back of the John-Wooden Center, but not through the main entrance at the front of the building.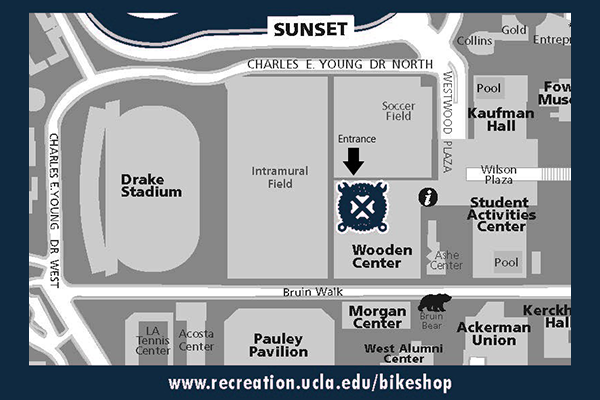 If you do not have an appointment booked through the UCLA Recreation app we have 24-hour walk-up availability at our outdoor workstand and air pump located just outside of shop: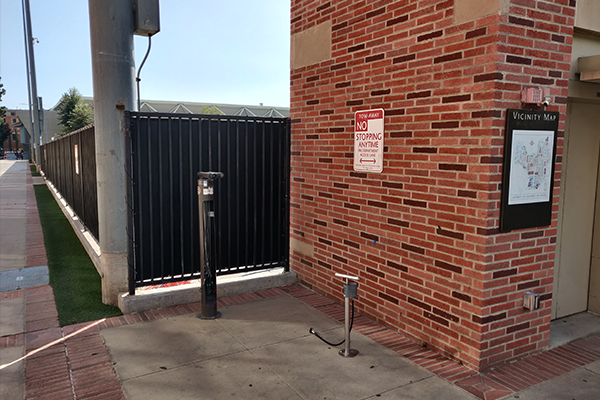 2131 John Wooden Center
Los Angeles, CA 90095
310.206.7219
bikecenter@recreation.ucla.edu
Ask an Expert
Public Workstations
Public workstations are located in many places around campus, for your convenience. Most of them have a workstand to suspend your bike in the air, a pump to inflate your tires, and a small selection of tools for repairs.
BikeLink Lockers
BikeLink cards are available to purchase at the UCLA Bike Shop. For more information about this secure bike parking service, please visit UCLA Transportation's Bicycle Resources page and open the "BikeLink Lockers" drop-down tab.
Routes for Rides
We often get questions from aspiring and active bicyclists about how to ride to campus from various parts of the city. In response to these inquiries, we've mapped dozens of routes that we've found useful over the years:
Routes to campus from the East
Routes to campus from the North and West
Routes to campus from the South
You may also plan your route to campus using tools like Google Maps'Bicycling-Directions (click "Get Directions," then click on the bike icon).
Also, we invite you to request custom routes for your particular commute:
Tips
As demonstrated by UCLA's Gold designation in the Bicycle-Friendly University program, UCLA is committed to supporting your bicycle-commuting endeavors.
Videos
Bikes for All is an inspirational video filmed by a UCLA student. Bike-U-mentary, produced by UCLA Transportation, documents two bicycle-commutes to campus. Sharing the road can be challenging when everyone's in a hurry, so Watch for Bruins.
Locking
Most thefts can be deterred by securing the bicycle frame with a U-lock to approved parking-infrastructure (e.g., a bicycle rack). We recommend this humorous video about (in)effective locking produced by BikeUCLA Films, The Bike Bandit.
Riding
The League of American Bicyclists recommends the following guidelines for a smooth commute: 1) Follow the law; 2) Be predictable; 3) Be conspicuous; 4) Think ahead; 5) Ride ready; 6) Keep your cool. These videos about how to ride on the road provide guidance, too; for more information, we recommend our Smart-Cycling Classes.
Links
The following links are provided for informational purposes.
A sampling of On-Campus Organizations and Resources:
A sampling of Bike Shops, DIY Workshops, and Bike-Rental Services in LA:
A sampling of Rides, Events, and Classes in/near LA:
A sampling of Governmental and Non-Governmental Bike-Programs:
Hours
Monday - Thursday, 11:00 AM - 4:30 PM
Friday - 11:00 AM - 3:30 PM
Location
Northwestern corner of the Wooden Center