The Bike Shop is currently closed until further notice. This webpage will be updated with the planned reopening date and hours of operation as soon as that information is available.
Resources
Do-it-yourself Workshop
The UCLA Bike Shop is a Do-It-Yourself Workshop established as a partnership between UCLA Recreation and UCLA Transportation to encourage transportation by bicycle. We provide tools, a workspace, and resources for UCLA students and staff to make their own repairs. Our onsite mechanics are happy to teach you, guide you, and offer you advice on repair strategy and technique. However, please note that your repairs are your own and that you bear sole responsibility for them.
Book an Appointment:
To use the UCLA Bike Shop, please book an appointment on the UCLA Recreation Online Store. Walk-ins are welcome if space allows.
Location:
The shop is located in the northwest corner of the John-Wooden Center, as shown on the below map. Patrons may bring their bike into the shop through the garage door in the back of the John-Wooden Center, but not through the main entrance at the front of the building.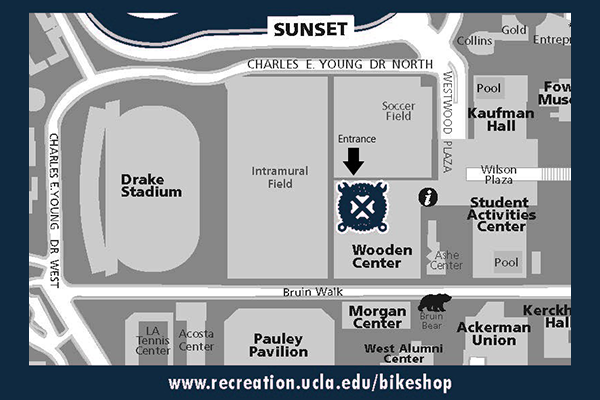 Outdoor tools, workstand, and air pump located just outside of shop: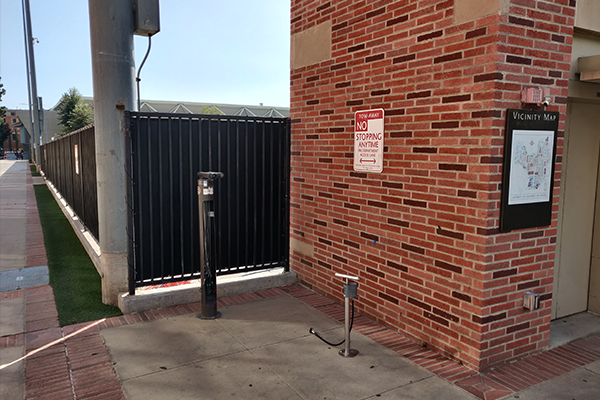 2131 John Wooden Center
Los Angeles, CA 90095
310.206.7219
bikecenter@recreation.ucla.edu
Public Workstations
Public workstations are located in many places around campus, for your convenience. Most of them have a workstand to suspend your bike in the air, a pump to inflate your tires, and a small selection of tools for repairs. Here is a map of their locations and here is a list of them:
UCLA Bike Shop: Just outside the UCLA Bike Shop
Strathmore: In front of the Strathmore Building on the west side of Westwood Plaza, just north of the Police Station
Covel: Adjacent to Sproul and Covel Halls on the Hill, behind Drake Stadium
LuValle: In front of Dodd Hall, south of LuValle Commons
PS9 (pump only): Across Charles Young South from the Center for Health Sciences, south of Parking Structure 9, and on the northernmost inverted-U-bike-rack
100 Medical Plaza: West of 100 Medical Plaza, south of Reagan, and just east of the stairway between Reagan and 100 Medical Plaza
Sunset Recreation: In front of the turnstile at the main entrance, next to bike racks
Schoenberg: East of Inverted Fountain, south of Schoenberg Hall
Hammer Museum: Enter the parking structure from Westwood Plaza and proceed as though you are going to descend to the second level of underground parking; the pump/stand is on the ramp between the two levels.
Please feel free to ask us questions about your repairs:
BikeLink Lockers
BikeLink cards are available to purchase at the UCLA Bike Shop. For more information about this secure bike parking service, please visit UCLA Transportation's Bicycle Resources page and open the "BikeLink Lockers" drop-down tab.
Routes for Rides
We often get questions from aspiring and active bicyclists about how to ride to campus from various parts of the city. In response to these inquiries, we've mapped dozens of routes that we've found useful over the years:
Routes to campus from the East
Routes to campus from the North and West
Routes to campus from the South
You may also plan your route to campus using tools like Google Maps'Bicycling-Directions (click "Get Directions," then click on the bike icon).
Also, we invite you to request custom routes for your particular commute:
Fixing Flats
Here is an illustrated overview of the many ways in which an inner tube can become damaged to cause a flat tire. Many people's first inclination when they get a flat tire is to immediately install a new inner-tube. However, the first step we recommend is attempting to determine which of the following types of flats has occurred. This determination informs the repair and increases the likelihood of its success. It's not fun to go to the trouble of replacing an inner tube, only to get the same flat afterwards. This common pitfall can be prevented by a better-informed approach to the repair.
Preparing a Tire for Installation:
Here is an illustrated, step-by-step guide to how to check your tire for common issues. Lots of flats are caused by problems with the tire itself. Screening for these problems and addressing them as needed is a critical part of addressing a flat tire. Sharp objects (e.g., thorns, wires, glass) laying on the ground often lodge themselves in the tread of tires when we run over them on our bikes. These objects sometimes penetrate the tire and poke a hole in the tube inside of it. Afterwards, they can stay in the tire. A quick installation of a tube--without checking the tire--can leave these sharp objects in the tire. The result is that the same puncture occurs again.
Rim strip is among the most under-appreciated safeguards against flats. Using this illustrated guide is a great way to become acquainted with their role in flat repair.
Once the cause of a flat has been investigated, the tire has been prepared for installation, and the rim strip is in good shape, it's time to install the tire. This illustrated guide has key tips to successfully install even an extra-tight tire.
Please feel free to ask us questions about your repairs:
Ask a bike mechanic!
Cables and Housing
Cables and the housings in which they travel are the key to shifting and braking on most bicycles. Cables are generally anchored in the shifting mechanism(s) or brake lever(s) at the handlebar of the bicycle. They relay actions taken at this command center to the mechanisms on the bicycle that implement these commands, such as shifting gears or applying the brakes. In order to effectively relay these commands, cables and housing must be in solid shape. If they are damaged in any way, their function will be compromised. In some cases, they need to be replaced to achieve proper function. This illustrated guide shows how to cut cable housing and post-process it to yield the best results.
We welcome you to ask questions about your repairs:
Ask a bike mechanic!
Parts for DIY Repairs
We maintain a carefully-selected, value-oriented inventory of new parts that are available for purchase. Patrons may only purchase parts during their appointment. Sales on our new parts are final (i.e., returns/exchanges will not be accepted and refunds will not be issued).
We also gather used parts that may still be useful or contain useful pieces; they are available free of charge. We do not offer any kind of guarantee on used parts; we recommend that they be inspected for integrity and tested for function prior to use.
Please feel free to ask for guidance about finding replacement parts:
Tips
As demonstrated by UCLA's Gold designation in the Bicycle-Friendly University program, UCLA is committed to supporting your bicycle-commuting endeavors.
Videos
Bikes for All is an inspirational video filmed by a UCLA student. Bike-U-mentary, produced by UCLA Transportation, documents two bicycle-commutes to campus. Sharing the road can be challenging when everyone's in a hurry, so Watch for Bruins.
Locking
Most thefts can be deterred by securing the bicycle frame with a U-lock to approved parking-infrastructure (e.g., a bicycle rack). We recommend this humorous video about (in)effective locking produced by BikeUCLA Films, The Bike Bandit.
Riding
The League of American Bicyclists recommends the following guidelines for a smooth commute: 1) Follow the law; 2) Be predictable; 3) Be conspicuous; 4) Think ahead; 5) Ride ready; 6) Keep your cool. These videos about how to ride on the road provide guidance, too; for more information, we recommend our Smart-Cycling Classes.
Links
The following links are provided for informational purposes.
A sampling of On-Campus Organizations and Resources:
A sampling of Bike Shops, DIY Workshops, and Bike-Rental Services in LA:
A sampling of Rides, Events, and Classes in/near LA:
A sampling of Governmental and Non-Governmental Bike-Programs:
Hours
We are closed and will share updated hours soon. Thank you for your understanding.
Location
Northwestern corner of the Wooden Center