Sign up for SCRC and Aquatics Updates!
Get the latest news and updates on SCRC & Aquatics facilities and programs. From facility updates, to program announcements, and more. Click the button below to be added to the email list.
Updated Facility Policies and Procedures
Facility Policies
You must be at least 16 years of age to enter Sunset Canyon Recreation Center without a parent or guardian
No glass (including water bottles, food storage container, etc).
No alcohol
No pets (including – but not limited to – dogs and cats)
*Some spaces may be closed in inclement weather, unsafe conditions or for scheduled events or programming.
SCRC Lawns
Facility Policies:
No balls, cleats or sporting equipment.

No weights, medicine balls or other workout equipment.
jane b semel HCI Community Garden
Pools
Two pools are available at SCRC: Park Pool and Family Pool. Visit the individual facility page for specific policies, details, and hours.
Mapes Beach, Sand Volleyball Courts
Mapes Beach Sand Volleyball courts include 3 regulation size sand courts and 1 practice court. Mapes Beach is home to the UCLA varsity Beach Volleyball team, Club Sport practices, Intramural sports, and open recreation beach volleyball.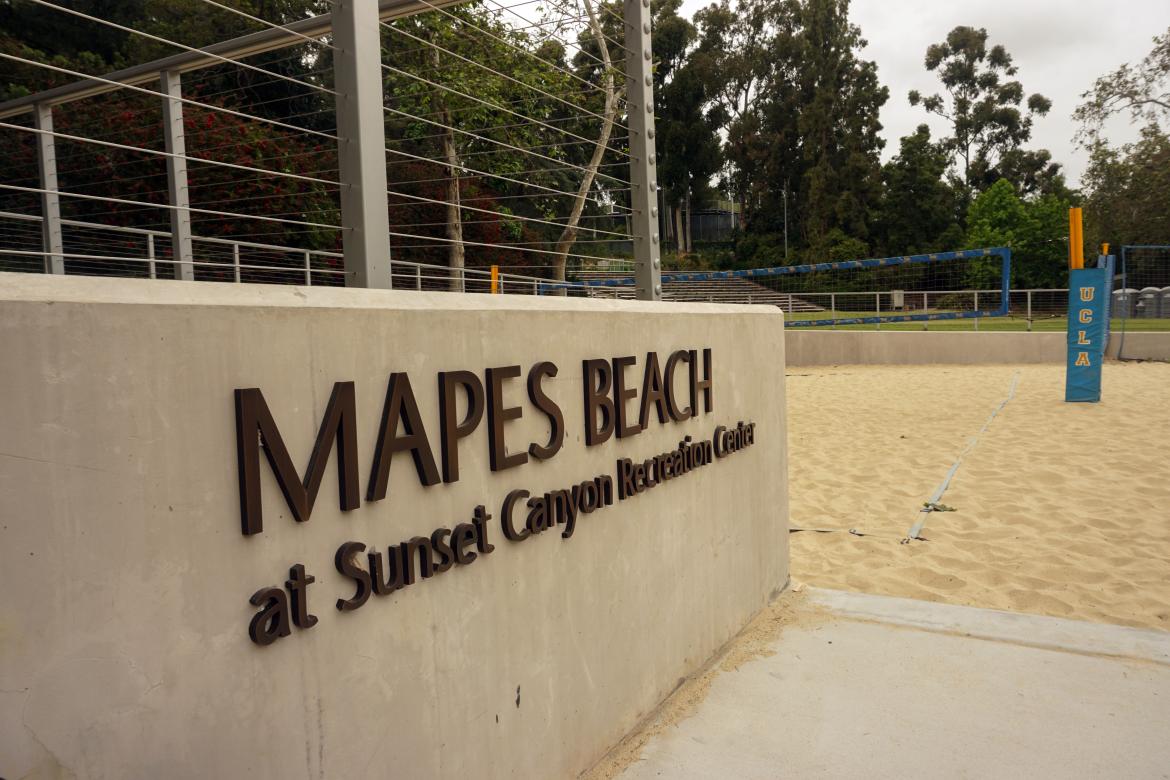 Use of courts during open recreation is on a first come, first serve basis.
All participants must bring their own equipment (no equipment is available for checkout)
Monday – Friday: 8am – 8pm
Saturday/Sunday: 10am – 8pm
*Open hours may vary based on facility reservations or special events. Please visit our reservation website for the most accurate day to day schedule.
SCRC Tennis Courts
Participant Policies:
Must be a registered UCLA student or have UCLA Recreation membership to use tennis courts.

Must have an appropriate bookings reservation to enter the facility.

Each booking made is valid for up to 3 additional recreation members.

All users should check in at the Sunset Canyon Recreation Center front desk. If you have not checked in, please be prepared to have you membership and reservation verified during your reservation time.

Limit 2 people per court (singles play) and 4 people per court (doubles play).

Limit 6 balls per court.

No ball hoppers.

No baskets.

Private lessons are prohibited.
Hitch Basketball Courts
Sycamore Park
Facility Rental
For availability and to make a reservation, please visit our reservation site at http://reserve.recreation.ucla.edu.
Hours
*All hours subject to change based on facility availability
Regular Hours:
Monday - Friday: 6:00AM - 8:00PM
Saturday: 8:00AM - 8:00PM
Sunday: 9:00AM - 8:00PM
Labor Day Weekend
Saturday 9/2 – Monday 9/4: 12PM-6PM
Beginning 8/14
Monday – Friday: 6AM – 6PM
Saturday: 9AM – 6PM
Sunday: 10AM – 6PM
SCRC Tennis Courts
Monday – Friday: 6AM – 6PM
Saturday: 9AM – 6PM
Sunday: 10AM – 6PM
SCRC Pools (Park Pool, Family Pool)
Location
111 Easton Drive, Los Angeles, CA 90095-1370 | Phone: (310) 825-3671
From Sunset Blvd (going eastbound) turn right onto Bellagio. Turn left at the second stop sign. At the next stop sign, turn right into Sunset Canyon Recreation Center.